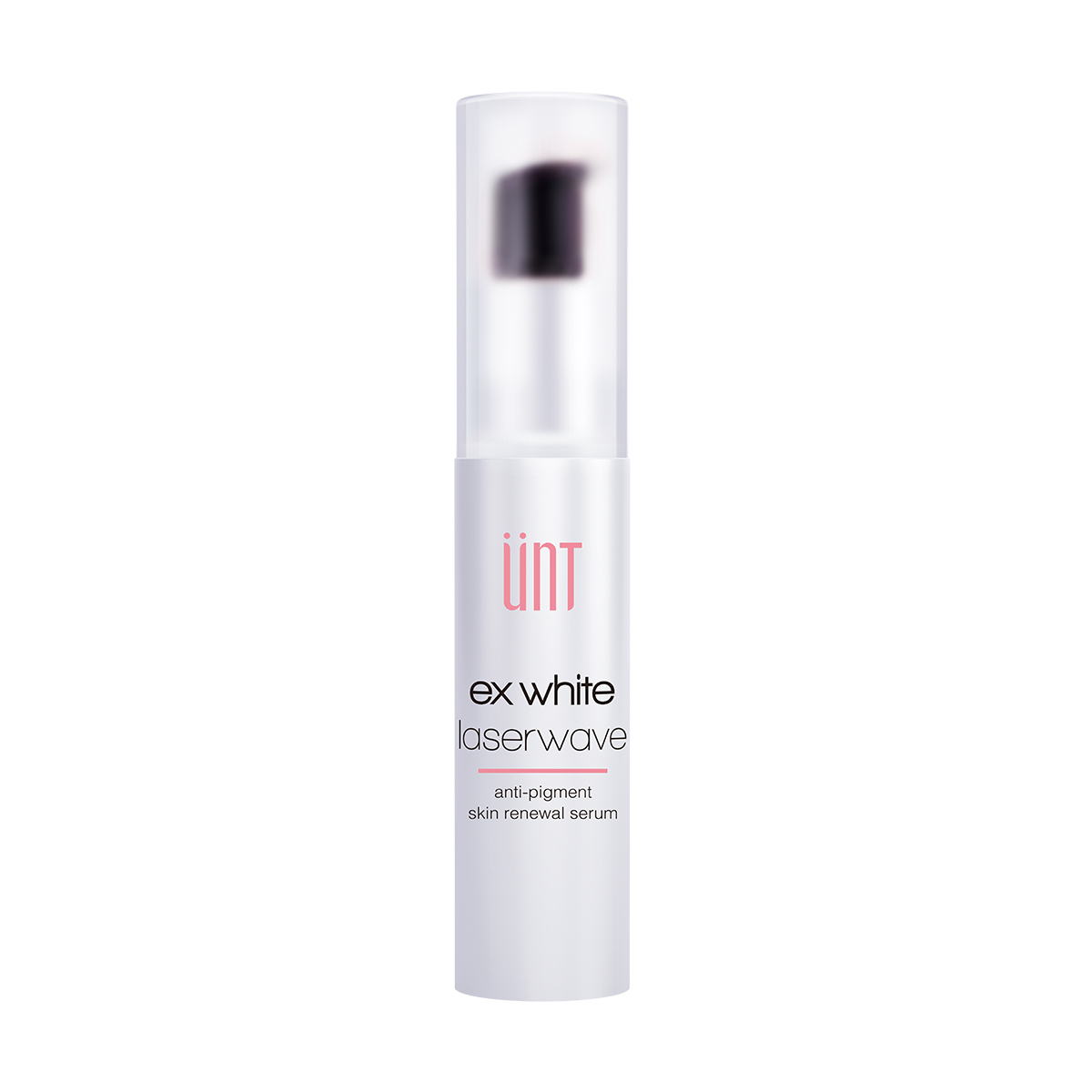 EX WHITE LASERWAVE
Anti-Pigment Skin Renewal Serum
An oil-free renewing serum
Purify the skin and remove dark pigments
Sheer and pure for fast absorption
Treat dull complexion to a flawless radiance
Excellent care for sensitive, oily or acne skins
KEY INGREDIENTS
TRANEXAMIC ACID

m-Tranexamic Acid is a medicine used in preventing bleeding problem. It proves to be highly effective in counteracting melanin growth, removing pigment spots, and brightening skin complexion. Being able to fight chronic mild inflammation, this ingredient is also ideal for lightening acne scars.

MANDELIC ACID

Derived from bitter almonds, it exfoliates deep into the skin and removes dead skin cells. It inhibits the growth of melanin, which causes brown patches, freckles, uneven skin-tone and other sun-related skin issues. Mandelic Acid has been widely recognized by dermatologists as the number one peeling and brightening treatment in recent years.
INGREDIENTS
Water, DL-Mandelic Acid, Butylene Glycol, Tranexamic Acid, Glycerin, Glyceryl Polyacrylate, Rose Water, Panthenol, Polyglutamic Acid, Carbomer / Polysorbate 20 / Palmitoyl Pentapeptide-4, PEG-40 Hydrogenate Castor Oil, Sodium Hyaluronate, Niacinamide, Disodium EDTA, Allantoin, Xanthan Gum.
USAGE
Use day and night daily.
After cleansing and toning, apply desired amount over face and neck. Pat gently until fully absorbed.
NOTE
[ WARNING ] External use only. Cap tightly after use.
Immediately stop using and consult a dermatologist if discomfort occurs.
Apply a small amount by the ear lobe as a sensitivity test prior to use.
Keep out of reach of children. Keep away from direct sunlight and heat.
Effective period : 3 years
Made in Taiwan
Expiration date : See package label.
{null}
FDA CPIS# F1124148